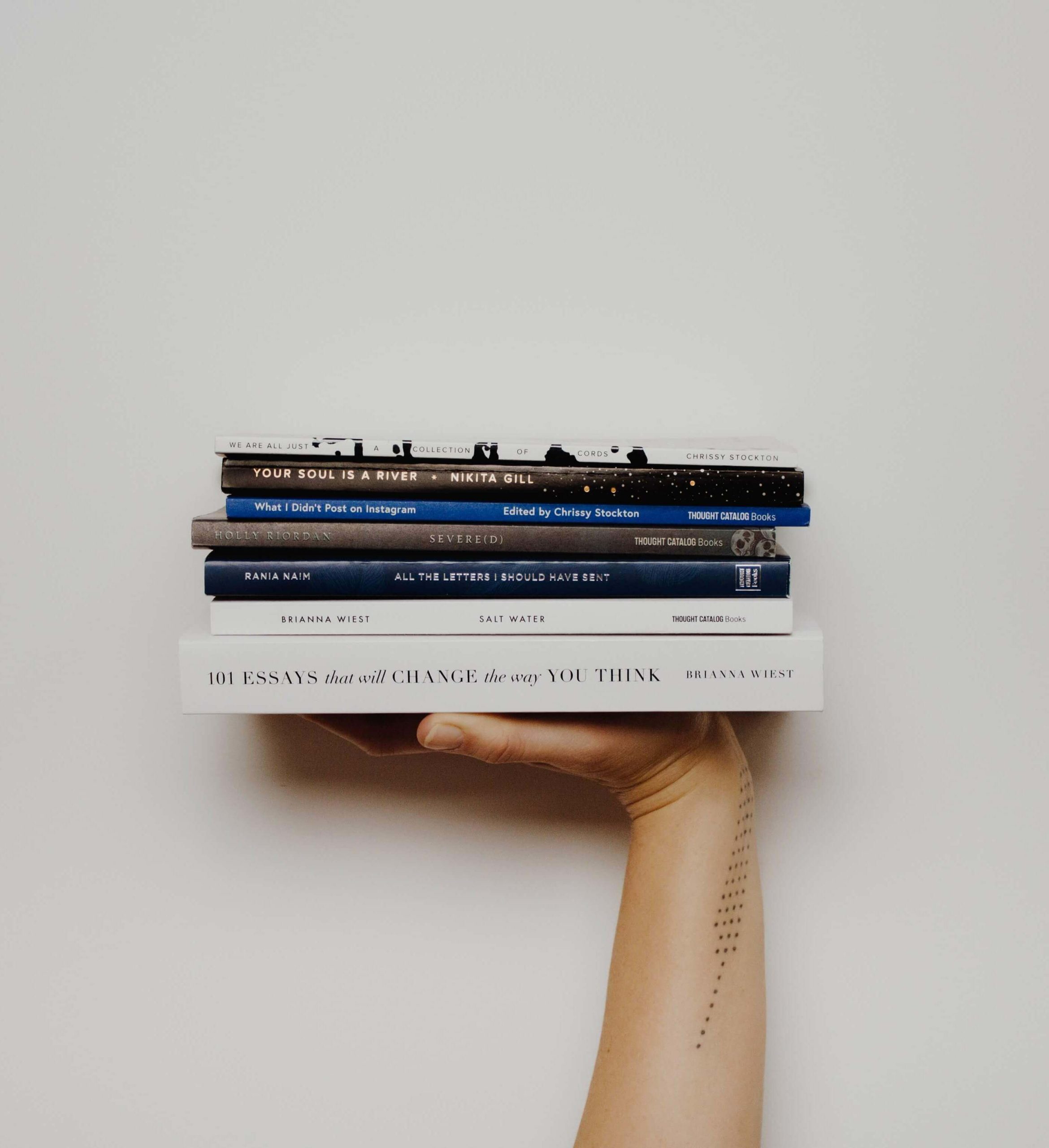 5 Books to Heal, Strengthen and Find Love in Relationships
Quarantine is testing relationships now more than ever and some couples will come out of this stronger than ever while others will be faced with a truth that was probably already apparent before the lockdown and now is the time where changes will need to be made. 
The illiterate of the 21st century will not be those who cannot read and write but those who cannot learn, unlearn, and relearn."  -Alvin Toffler
These changes don't necessarily mean you need to break up or move out, and let's be honest some people don't even have that possibility during these times. Instead, first, take this extra time to do some real self-reflection and find guidance from available resources to help navigate how to be a better partner to the ones you hold closest and to yourself.
Many of the problems we face in relationships are a reflection of pain or reaction to something within ourselves, meaning that if you choose not to fix it in your current relationship, there's a good chance you can carry it into the next one and this is how some of us find ourselves in a vicious cycle of toxic relationships that were doomed from the start.
Even if you're not in a relationship this is a time for everyone to reflect on different aspects of themselves and either heal old wounds or strengthen aspects that will eventually allow us to be better partners in the future.
1. Attached: The New Science of Adult Attachment and How It Can Help You Find – and Keep – Love
"A groundbreaking book that redefines what it means to be in a relationship." (John Gray, PhD., best-selling author of Men Are from Mars, Women Are from Venus)
An insightful look at the science behind love, Attached offers readers a road map for building stronger, more fulfilling connections.

Is there a science to love? In this groundbreaking book, psychiatrist and neuroscientist Amir Levine and psychologist Rachel S. F. Heller reveal how an understanding of attachment theory – the most advanced relationship science in existence today – can help us find and sustain love.
Pioneered by psychologist John Bowlby in the 1950s, the field of attachment explains that each of us behaves in relationships in one of three distinct ways:
Anxious

 

people are often preoccupied with their relationships and tend to worry about their partner's ability to love them back.
Avoidant

 

people equate intimacy with a loss of independence and constantly try to minimize closeness.
Secure

 

people feel comfortable with intimacy and are usually warm and loving.
With fascinating psychological insight, quizzes and case studies, Dr Amir Levine and Rachel Heller help you understand the three attachment styles, identify your own and recognize the styles of others so that you can find compatible partners or improve your existing relationship.
Did you know the last fight you had with your spouse began long before you even met?
 
Are you tired of falling into frustrating relational patterns in your marriage? Do you and your spouse fight about the same things again and again?
 
Relationship experts Milan and Kay Yerkovich explain why the ways you and your spouse relate to each other go back to before you even met. Drawing on the powerful tool of attachment theory, Milan and Kay explore how your childhood created an "intimacy imprint" that affects your marriage today. Their stories and practical ideas help you:

 Identify your personal love style

Understand how your early life impacts you and your spouse

Break free from painful patterns that keep you stuck




Find healing for the source of conflict, not just the symptoms




Create the close, nourishing relationship you dream about
Expanded Edition: Revised throughout with all-new material and additional visual diagrams, this expanded edition of How We Love will bring vibrant life to your marriage. Are you ready for a new journey of love?
Don't let the over the top cover scare you. This book has been around for 25 years, sold 11 million copies, and has been a #1 New York Times  Bestseller for 8 years running.
Simple ideas, lasting love.
Falling in love is easy. Staying in love, that's the challenge. How can you keep your relationship fresh and growing amid the demands, conflicts, and just plain boredom of everyday life?
In the #1 New York Times bestseller The 5 Love Languages, you'll discover the secret that has transformed millions of relationships worldwide. Whether your relationship is flourishing or failing, Dr. Gary Chapman's proven approach to showing and receiving love will help you experience deeper and richer levels of intimacy with your partner, starting today.
The 5 Love Languages is as practical as it is insightful. Updated to reflect the complexities of relationships today, this new edition reveals intrinsic truths and applies relevant, actionable wisdom in ways that work.
Includes the Couple's Personal Profile assessment so you can discover your love language and that of your loved one.
A New York City therapist examines the paradoxical relationship between domesticity and sexual desire and explains what it takes to bring lust home.
One of the world's most respected voices on erotic intelligence, Esther Perel offers a bold, provocative new take on intimacy and sex. Mating in Captivity invites us to explore the paradoxical union of domesticity and sexual desire, and explains what it takes to bring lust home.
Drawing on more than twenty years of experience as a couples therapist, Perel examines the complexities of sustaining desire. Through case studies and lively discussion, Perel demonstrates how more exciting, playful, and even poetic sex is possible in long-term relationships. Wise, witty, and as revelatory as it is straightforward, Mating in Captivity is a sensational book that will transform the way you live and love.
5. The State of Affairs:  Rethinking Infidelity
Iconic couples' therapist and bestselling author of Mating in Captivity Esther Perel returns with a provocative look at relationships through the lens of infidelity.
For the past ten years, Perel has traveled the globe and worked with hundreds of couples who have grappled with infidelity. Betrayal hurts, she writes, but it can be healed. An affair can even be the doorway to a new marriage—with the same person. With the right approach, couples can grow and learn from these tumultuous experiences, together or apart.
Affairs, she argues, have a lot to teach us about modern relationships—what we expect, what we think we want, and what we feel entitled to. They offer a unique window into our personal and cultural attitudes about love, lust, and commitment. Through examining illicit love from multiple angles, Perel invites readers into an honest, enlightened, and entertaining exploration of modern marriage in its many variations.
→ Better Breathing: adjust air quality, temperature, and toxin-levels to strengthen your body →Optimize Your 5 Senses: use sight, hearing, taste, smell, and touch to optimize your mid → Prioritize Personal Relationships: acknowledging support systems to live a...
read more
BIOHACKING YOUR BODY → Intermittent Fasting: 16-18 hours fasting cycle or 36 hour cycle for greater weight loss. → High fat & low carb, and protein fasts once a week to reboot, resculpt, and recleanse yourself → Modified Diet: try keto, gluten-free It doesn't take...
read more